A Cruel Irony
H
ouse Republicans unveiled a $36.5 billion disaster relief supplemental package Tuesday night, intended to pay for relief and rebuilding efforts for the floods, hurricanes, and wildfires of the past several months. It includes money for Puerto Rico's ongoing struggle with the aftermath of Hurricane Maria, though only a fraction of that headline number. In fact, $5 billion of the funds earmarked for Puerto Rico comes in the form of a loan, increasing the amount of money the island will eventually need to pay back.
And in a cruel irony, the bill also contains $16 billion in debt relief — just not for Puerto Rico's crushing debt.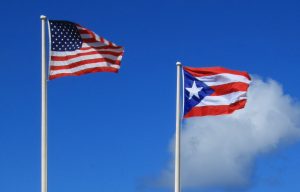 The full House chamber will vote on the bill from the House Appropriations Committee this week. Here's a breakdown of the $36.5 billion in aid that the committee proposed:
There's $576.5 million in U.S. Forest Service and Department of Interior grants for wildfire suppression and management. The western U.S. in particular has been rocked by a dangerous wildfire season, including ongoing blazes in Northern California that have killed 17.
Puerto Rico will get a Small Cut of Money
Another $18.67 billion is intended to replenish the Federal Emergency Management Agency disaster relief fund, particularly for events caused by hurricanes Harvey, Irma, and Maria. That means Florida, Texas, Puerto Rico, and the U.S. Virgin Islands will share that money, as determined by FEMA. The Department of Homeland Security's inspector general gets $10 million of that for audits and investigations of the use of relief funds.
Puerto Rico will get a loan of $4.9 billion out of that same pot, money to be used for maintaining basic government operations. President Donald Trump had previously requested that amount in loan form. With practically no tax receipts collected since last month's hurricane destroyed the island — 85 percent of homes remain without power three weeks after the storm — Puerto Rico faces a cash-flow crisis. Officials estimate that the government could run out of money and have to shut down on October 31.