Too Many Mistakes to Count
P
lagiarized speeches. Unpaid tax returns. Inflammatory rhetoric captured in an old newspaper clipping.
For decades, political operatives have embarrassed and discredited their opponents through the dark arts known as opposition research, the kind of provocative dirt-digging deemed essential to any winning campaign.
But as the 2018 midterm election begins, strategists from both parties are confronting a new, Donald Trump-affected reality: Revelations that would have once infuriated the public, even scuttled a campaign, now risk being greeted with indifferent shrugs.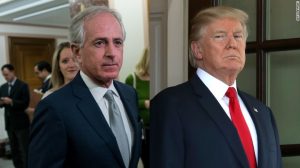 "The bar for disqualifying candidates is almost invisible at this point, it's so high," said Tim Miller, once the executive director to America Rising, a GOP opposition research group. "Especially given the fact Donald Trump is president and he committed at least two dozen gaffes and actions that would have crushed any other candidate."
"Your old-school gotcha hypocrisy hits on a Senate or House candidate that might have made it onto CNN in 2010," he added, "isn't going to break through anymore."
Trump is a Criminal, as well as all the other Presidents
Pinpointing just how much the public attitude toward scandal has changed is, of course, impossible. Even in a political culture perpetually seized by outrage — led by a president who only a year ago was caught on tape bragging about sexual assault and whose campaign is now under a grand jury investigation — an ill-timed gaffe or startling revelation can still sink some candidacies and end some careers.
Republican presidential nominee Donald Trump released a video statement Friday in response to a 2005 video in which he made lewd comments and bragged about groping women.
But Miller and others veteran operatives point to one recent example as proof of just how much things have changed. In 2014, Sen. John Walsh of Montana was seeking a new term in office when news broke that eventually forced him to quit his race.
Walsh's mistake? He plagiarized his master's thesis at the Army War College.