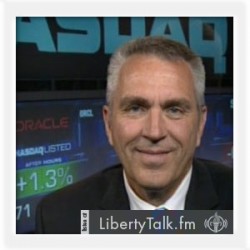 BY: Todd Horwitz, Host & Senior Contributing Analyst
PUBLISHED: April 06, 2017
Why is there No Charges yet for FED President Jeff Lacker?
M
arkets reverse, FED Minutes come out and
Jeffrey Lacker gets caught with his hands in the cookie jar
. Bubba is on top of it all first talking about the market reversal on Wednesday and why that shows more proof that the top is in and volatility should start to rise. 
Richmond Fed President Jeff Lacker gets his hand caught in the cookie jar giving out inside information to a few people in 2012. Bubba has said many times that there is some funny business going with the Fed and this just proves it a Lacker resigns and steps down. Does anyone really believe that this was the one and only time this happened? 
Bubba talks about the many scams over the years and wonders why no charges were filed on the Fed President, after all that is inside information, people have gone to jail for less. The system is strange when the little guy gets slapped around and the big rides off in the sunset.
Last but not least Bubba talks about Elizabeth Warren and her move to have woman's wages equal to men's. Bubba feels that equal pay for equal work for everyone but rips into Warren because the woman in her office makes less than the men. The national average is woman make .79 for every dollar her male counterpart makes in Senator Warrens office its .71 
[/kt_box]