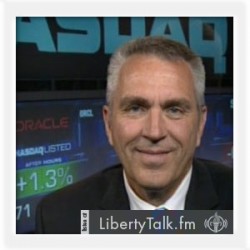 BY: Todd Horwitz, Host & Senior Contributing Analyst
PUBLISHED: July 27, 2016
Will DNC Email Leak Change Politics?
O
n today's show, Bubba brings his son Xander on board to talk about economics and life in general. Bubba first asks Xander what he thought about the
Cubs acquiring Aroldis Chapman
. His initial reaction was that he didn't like the trade but noted that he trusted Theo Epstein so he'd go along with it. Bubba discusses the
DNC email leak
with Xander and its implications on politics in general.
Bubba asks Xander what he thinks about the economy in general and how it's functioning. Xander cites the fact that he has grown to love free market economics and that has given him just a little bit of a biased opinion. Xander believes there is too much government involvement right now in the economy and that the concept of "free markets" isn't really happening in most aspects of the economy.
Bubba talks with Xander about the minimum wage and its effect on the economy. They also bring up the concept of "saving" and how just a little bit can be beneficial in the long run. Xander mentions that aside from what he's going to need next year at school, saving for the future isn't really something he ever thinks about.
Xander and Bubba give their thoughts on the costs and benefits of getting an education, which is growing increasingly more expensive. Xander says that we are approaching a time where a lot more people might decide to forego a college degree because it is just too expensive nowadays. Bubba asks Xander if he has any last words for the listeners and he says to do what's best for yourself when deciding on higher education and to not look at what "everybody else is doing."
About Xander Horwitz
Xander Horwitz is currently an incoming senior at Illinois Wesleyan University. He is studying economics and business administration there. After school, he hopes to be working and living somewhere in the city of Chicago. His goal is to work for a trading firm.