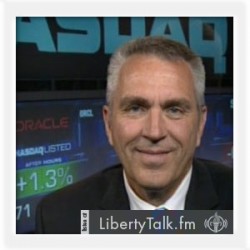 BY: Todd Horwitz, Host & Senior Contributing Analyst
PUBLISHED: March 02, 2016
President Trump's Speech Rallies Markets
T
rump knocked one out of the park with his address to the joint session and lays out a great game plan. Bubba talks about the speech and why it had such a positive effect on the markets. The plan that President Trump is compiling is exactly what Bubba has been calling for: to rebuild the government and run it like a business.
Bubba talks about the miserable left and what an embarrassment they are with their lack of respect to the office of the president, but more over the embarrassment to the American people. They have shown their true colors to be consistent with the ignorance of a school child.
Bubba makes his weekly visit to Rural Rally Radio and Marlin Bohling as they talk about the farm and agricultural markets. Bubba tells Marlin that he believes the recent rally in the grains is short covering and he doesn't see legs to this rally. Bubba also looks at the Dollar, Oil and other things that will affect the agricultural markets.
The embarrassment of being on the left should destroy the party with their daily childish actions, as well as the way they behaved during President Trump's speech. The President reached out to both sides of the aisle and received no respect from the left. Bubba views it to be tragic that the left is only concerned with their own narrow views and not with the American people.
About Marlin Bohling
William Alfred "Bill" Whittle is an American conservative blogger, political commentator, director, screenwriter, editor, pilot, and author. He is best known for his PJ Media internet videos and short films, one of which, "Three and a Half Days", has been viewed more than 2.4 million times on YouTube as of November 2012. He is currently the presenter of Afterburner and The Firewall, and co-hosts Trifecta with Stephen Green and Scott Ott. In addition, Whittle has interviewed a number of political personalities as a PJTV.com commentator.
[RFDTV – website] • [Follow Marlin on Twitter] • [Join Marlin on LinkedIn]