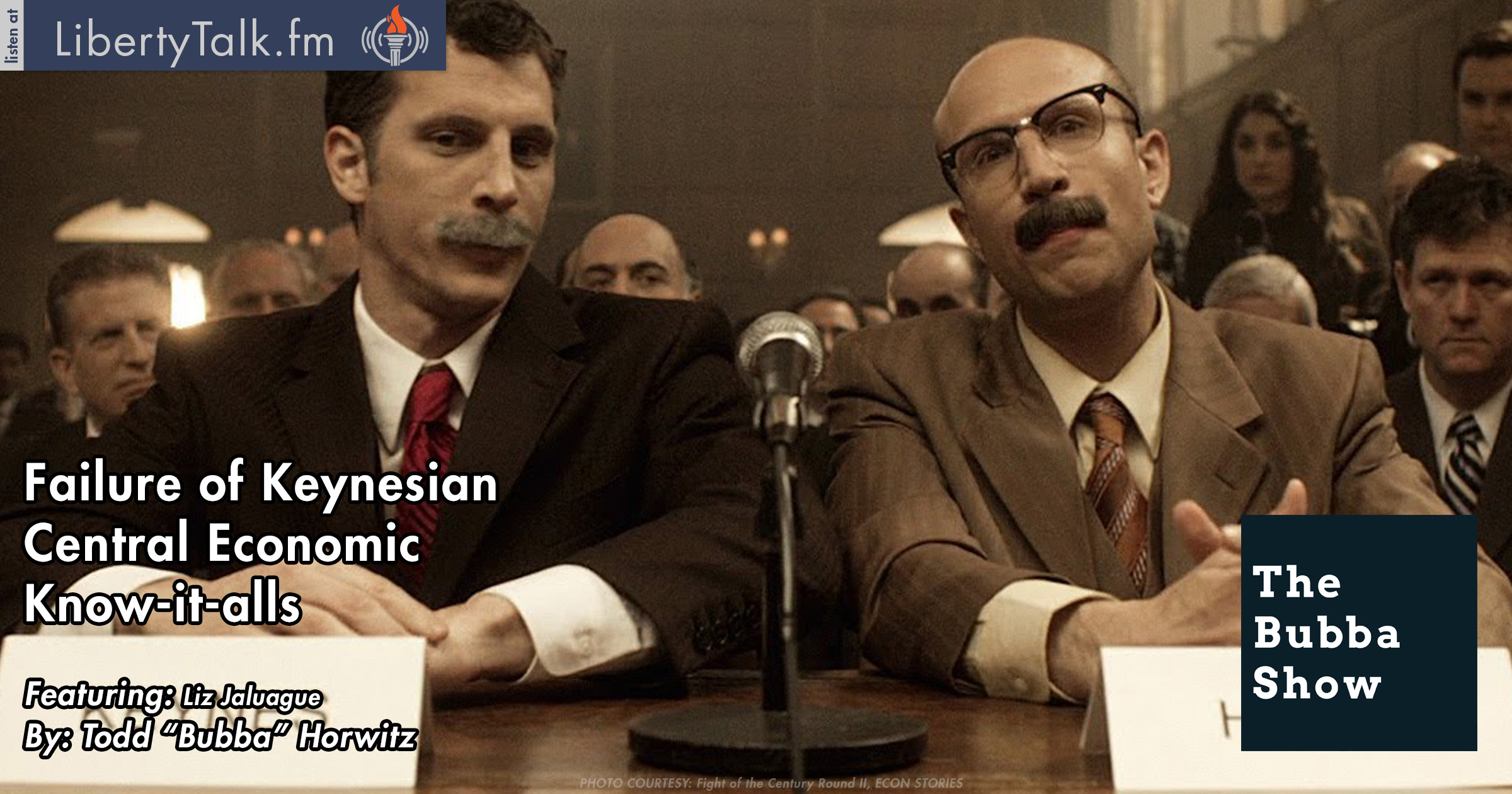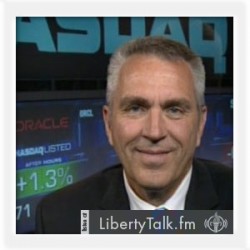 BY: Todd Horwitz, Host & Senior Contributing Analyst
PUBLISHED: June 8, 2015
Keynesians Unable to Account for Myriad of Economic Variables in Central Plan
Deep Thoughts by Paul Krugman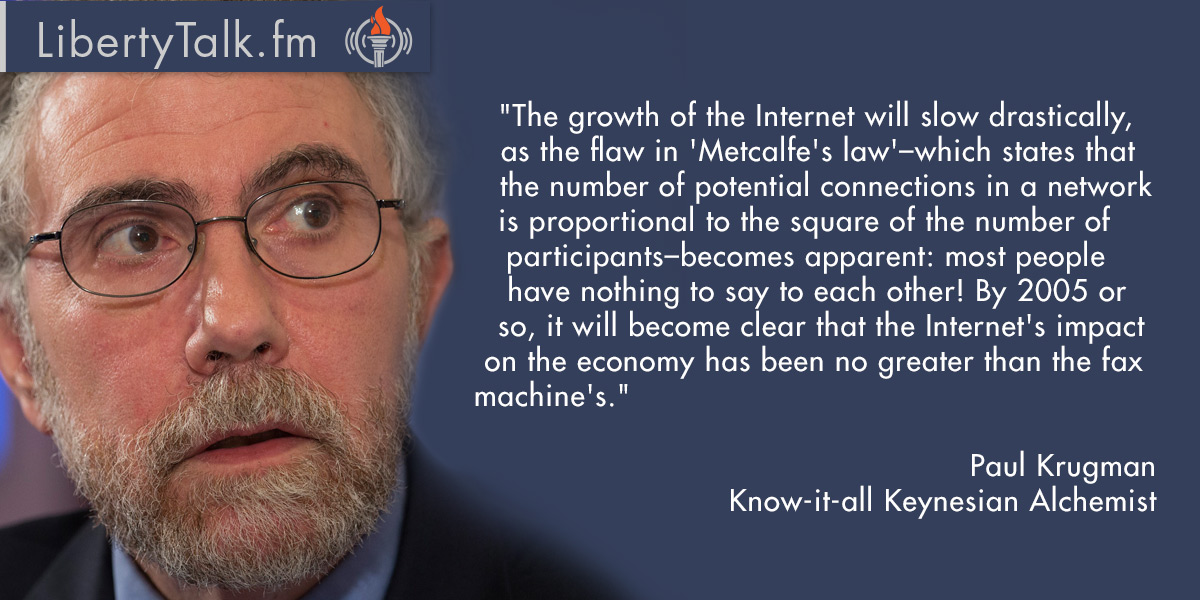 Editor's Note: Central Planning zealot, advisor to the fraudsters at Enron, and Keynesian mouth-piece, Paul Krugman who has previously advocated for government to use a phony alien invasion (multiple times) as an excuse to continued economic stimulus via additional quantitative easing, once compared the internet to a having an economic impact comparable to the fax machine.
T
odd welcomes Liz Jaluage of 
Students for Liberty
to the show to discuss her views on libertarian philosophy, the failings of the Keynesian central economic planners, her preference to see a more Austrian based market economy. Liz maintains that the philosophy based on the non-aggression principle along the lines of Thomas Jefferson's 
"Rightful Liberty"
provides a better platform for better economic growth and a more peaceful society. Liz points to the failings of the socialist big government fanatics and their paternalistic attitude is stifling not personal achievement and crushing private initiatives despite their stated "good intentions" to wit are wholly rooted in the plunder of wealth redistribution dictated by the Political Class. Liz opines that if the goal is a more peaceful, generous, productive society, individuals require freedom from a small designing cabal of men and women living in a bubble in Washington, attempting in vain to consider an endless amount of variables for a nation of 300 million plus individuals.
Liz further indicates she is skeptical about political office but she nevertheless plans on throwing her hat into the ring to help push the dial and conversation towards the principles of Liberty. She highlights some of her work as editorial writer at Liberty.me, founded by the former head of the Mises Institute, Jeffrey Tucker.
Thereafter, Bubba introduces Angie Miles of CBOE TV to speak about her new show on the network. She comments on her  new spot on The Russell and extends and invitation to Todd to offer his insight and analysis. Angie also comments on the current market conditions and stands by her belief that jobs numbers will move the market. Bubba and Angie also discuss the current employment picture and the mix of the latest numbers contained in the most recent jobs report.
Will Alibaba be able to Overcome Counterfeit Setbacks?
Bubba and Angie discuss Alibaba and some of the issues that they have been having with counterfeit merchandise. She thinks that BABA is a vehicle that can be used for trading. She believes that her first pick of a stock would be Apple Inc. She thinks that you should buy it and hold it. She believes that they have the world's best electronic products and that will keep them in the lead. Bubba agrees with her opinion.
About Liz Jaluage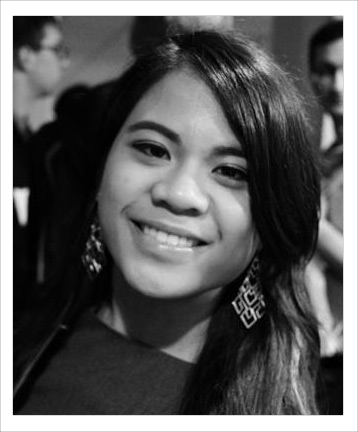 Liz is a graduate student in the Molecular Biology and Biochemistry program at Simon Fraser University. She is an aspiring scientific researcher who holds a BSc in Biochemistry from Queen's University, and wishes to extend her experiences in science outreach into discussing political philosophy on campus.
[Full Bio at Students for Liberty] • [Follow Liz Jaluage on Twitter]
About Angie Miles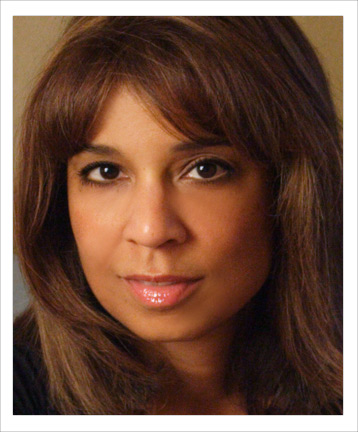 Long-time financial journalist Angela Miles hosts CBOE's daily program, "In the Money with Angela Miles." With broadcast times varying anywhere from 11 a.m. to about 12:30 p.m. (Chicago time) and a running time of 7-10 minutes, the program features current options-specific market news, exclusive interviews with traders from the floor of CBOE, and other points of interest for traders.
["In The Money" with Angie Miles on CBOE TV] • [Follow Angie Miles on Twitter]