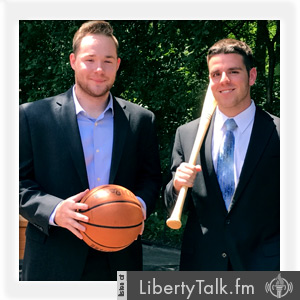 BY: Witz & Roz, Hosts, The Sporting Edge
PUBLISHED: October 27, 2018
Chief's QB Impressive
T
his week on The Sporting Edge, Witz and Roz breakdown all the current action in the NBA. The Lakers are off to a slow start, but Roz thinks LeBron will figure out how to win in LA. Kawhi looks to be back in tip-top shape as the Raptors look tough to beat in the East.
We've got another big week in college football as the playoff picture continues to shape up. The biggest matchup of the week features the Georgia Bulldogs traveling to Gainesville as a 7-point favorite vs. the Gators.
We are nearly halfway through the NFL regular season and the Rams and Chiefs continue to score points at will. The Bears were one yard away from tying up the Patriots as Kevin White caught a Hail Mary prayer from Mitch Trubisky as time expired but was held short of the end zone.
The Red Sox have a 2-0 vs. the Dodgers in the Fall Classic and won Game 2 behind a great effort from the revitalized David "Postseason" Price. They are firing on all cylinders and will be tough to take down as the Dodgers turn to Walker Buehler in a very important Game 3. Stay tuned for more updates next week!