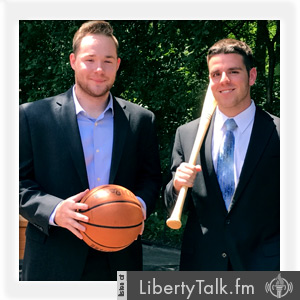 BY: Witz & Roz, Hosts, The Sporting Edge
PUBLISHED: February 02, 2019
New England Patriots and Los Angeles Rams Set to meet in Atlanta
T
his week on The Sporting Edge, Witz and Roz breakdown the biggest game of the year, Super Bowl 53 in Atlanta. Will this year's big game be the same old song and dance with yet another Pats victory, or will the upstart Rams make it two years in a row upsetting the Belichick & Brady dynasty?
Interior pressure by the Rams defense is going to be the key to this game according to both Witz and Roz. However, the Rams have their work cut out for them as Patriots' quarterback, Tom Brady has managed to avoid being sacked and hitting the turf in both previous playoff games including the shoot out two weeks prior in the AFC Championship Game against the Kansas City Chiefs.
In college hoops, the Tennessee Volunteers have topped the Duke Blue Devils as the number one ranking.according to the Associated Press' Top 25 poll for this week.In addition, the first round of bracketology is out and Roz discusses what he thinks about the seeding so far this season.
In other basketball news, a huge trade went down this past week in the NBA as the New York Knicks traded Kristaps Porzingis to the Dallas Mavericks in exchange for Dennis Smith Jr., center DeAndre Jordan, guard/forward Wesley Matthews and two future round first-round draft picks. Nevertheless, as the New York Knicks look to also relieve salary cap pressure following the trade, the team is still managing to continue their millennium of embarrassment on the court psoting a record of 10 wins and 41 losses thus far in the season. Stay tuned for more updates next week!