What does it mean to be a human in the new millennium? Dr. Jason Hill joins Dr. George to discuss what it means to become an American.
Podcast (medicine-on-call-dr-elaina-george): Play in new window | Download (47.0MB) | Embed
Original air date:
 April 13, 2019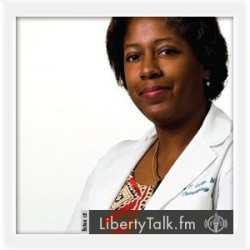 BY: Dr. Elaina George, Host & Contributing Health Editor
PUBLISHED: April 13, 2019
What Makes America Exceptional? 
Dr. 
Jason D. Hill is honors distinguished professor of philosophy at DePaul University in Chicago. His areas of specialization include ethics, social and political philosophy, American foreign policy, cosmopolitanism, and race theory. He is the author of several books, including "

We Have Overcome: An Immigrant's Letter to the American People

" (Bombardier Books/Post Hill Press). Dr. Hill joins me to
 give a fresh perspective on what it means to be both an Immigrant and an American. He also discusses what he thinks makes America exceptional and unique.
About Dr. Jason Hill
Jason D. Hill is a professor of philosophy at DePaul University and the author of three previous books. These include Becoming a Cosmopolitan: What It Means to Be a Human Being in the New Millennium, and Civil Disobedience and the Politics of Identity: When We Should Not Get Along. He is also President and CEO of the Institute for Immigrant Assimilation. He holds a Ph.D. in philosophy and has been a professional writer and book author for over thirty years. He is a specialist in ethics and American politics and has been published in major magazines including The Federalist, Commentary Magazine, Spiked Magazine, and Salon. He is also a contributor to The Hill.
[Read Dr. Hill's Article- Here] [Get Dr. Hill's Book – Here] [Follow Dr. Hill on Twitter – Here]
[/kt_box]