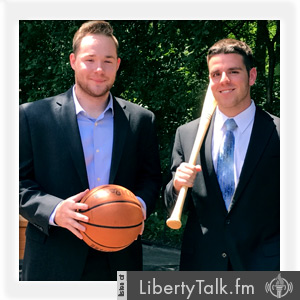 BY: Witz & Roz, Hosts, The Sporting Edge
PUBLISHED: July 21, 2018
World No 1 Dustin Johnson Misses Cut
T
his week on The Sporting Edge, Witz and Roz break down the field at Carnoustie and what's been going on so far. The early morning golf always makes for some interesting action, and some big names have faltered early, mainly world No. 1, Dustin Johnson.
The MLB All-Star festivities were a hit as Bryce Harper took down Kyle Schwarber in a very exciting final round. The actual game went into extra innings and Alex Bergman hit a homer in the 10th off Ross Stripling in a familiar matchup of Dodgers vs. Astros.
Manny finally got dealt and he lands in the N.L. West on the Dodgers. Roz and Witz go into detail about the trade as well as another big trade that brought Brad Hand to the Indians.
Kawhi finally got his wish and is out of San Antonio and on his way to Toronto. In a pretty shocking move, the Raptors will send DeMar DeRozan and a few other pieces to the Spurs. Melo looks like he's going to Houston. Stay tuned for more updates next week!