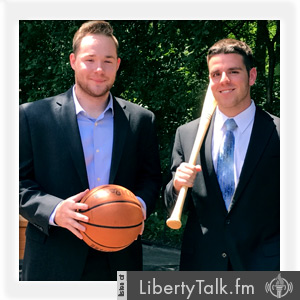 BY: Witz & Roz, Hosts, The Sporting Edge
PUBLISHED: May 12, 2018
Yankees and Red Sox Lead MLB
This week on The Sporting Edge, Witz and Roz start the show by covering the NBA Playoffs and the final four teams that remain. The Cavs made mincemeat of the Raptors, something they've been doing for a few years now. The 76ers were outplayed handily by the Celtics.
The Warriors and Rockets made quick work of the Jazz and Pelicans and set up a showdown between the true two best teams in the West. Roz and Witz are on opposite sides as Witz is sticking with the Rockets to go all the way.
The Kentucky Derby is in the books and the favorite, Justify, took home the title. He went off as a 3-1 favorite and really ran a perfect race. Roz and Witz also talk about the Players Championship.
The Yankees and Red Sox are firing on all cylinders as they have the best two records in the league. The Dodgers continue to struggle, but hopefully, the returns of Yasiel Puig, Clayton Kershaw, and Justin Turner will right their ship. Stay tuned for more updates next week.