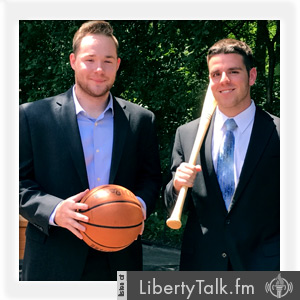 BY: Witz & Roz, Hosts, The Sporting Edge
PUBLISHED: March 10, 2018
March Madness
R
oz takes the reins of The Sporting Edge all by himself today as Witz is nowhere to be found. He gives a rundown of what's going on in the entire world of sports in the first segment before moving on to what is on everybody's mind: March Madness.
The madness is almost in full swing as the conference tournaments are giving us some answers as to which teams will get a chance to make their Cinderella run. We've got one more day left before Selection Sunday, then it's 4 straight weeks of the best tournament of the year. 
Michigan cemented its status in the tournament this year by winning the Big 10 in what seems like a month ago. They're projected to be a 4 seed. According to CBS, the current number one seeds are Virginia, Kansas, Xavier, and Villanova. 
Alabama used 31 points from Collin Sexton to beat Auburn in the SEC Tournament, and it looks like the Crimson Tide are in the big dance as of now. USC could be watching the tournament from the sidelines as they were upset on Thursday night. So many teams and so much action, it's hard to keep track of it all! Stay tuned for more updates and happy March Madness!