North Carolina Crowned NCAA Champs for 6th Time
T
his week on The Sporting Edge, Witz and Roz break down the NCAA Championship game between Gonzaga and North Carolina. UNC took home the title 71-65 after what turned out to be a bizarre game with 27 fouls being called in the 2nd half. Joel Berry II put up 22 points for the Tar Heels and was a key cog in the championship effort. Zach Collins fouled out of the game extremely early for the Zags and ended up only playing 14 minutes. Justin Jackson went 0/9 from deep, but ended up with 16 points.
Joining the show this week is professional athlete, Joey Calistri, a soccer player for the Chicago Fire. Joey attended Deerfield High School with Witz and Roz before attending Northwestern University, where he ended up being the #2 leading goal scorer in program history. Joey was the unanimous selection for Big 10 Freshman of the Year, and was selected to the All Big 10 First Team twice, as well as the All Big 10 Second Team twice.
Joey gives the listeners some insight on what it's like to be a professional soccer player. Traveling around the country is a grind, but definitely worth it considering all the cool places he's been. He describes his first professional goal against Colorado last year as well as the thrill of playing in front of a big crowd. Joey made 14 appearances and started twice for the Fire in his rookie season, the most among the club's 4 homegrown players.
The first two days of the Masters were incredible as usual. Charley Hoffman stole the show on day one by firing out a 7-under round of 65. He cooled off on day two, and now sits atop the leaderboard at 4-under along with Sergio Garcia, Thomas Pieters, and Rickie Fowler. Witz think Sergio has what it takes to finally bring home his first major, but Roz thinks Rickie will be the one to break his major-less curse. Don't sleep on Phil either! See you next week everyone. 
About Joey Calistri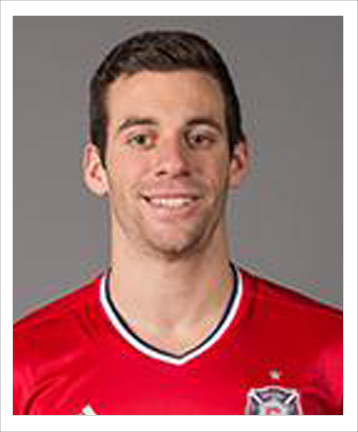 Joey Calistri is a professional soccer player for Chicago Fire. Joey was a four-year starter for Northwestern, racking up conference and regional awards while finishing as the No. 2 leading goal-scorer in program history.
 [Follow Joey on Twitter] • [Joey's Bio on Chicago Fire's – Website]