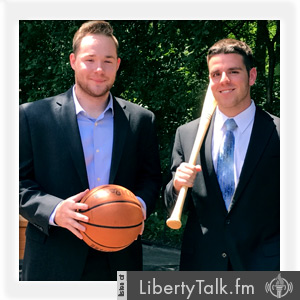 BY: Witz & Roz, Hosts, The Sporting Edge
PUBLISHED: January 27, 2018
Baseball Hall of Fame Inductees Selected
T
his week on The Sporting Edge, Witz and Roz start the show with a recap of what's been happening with Roz out in LA. No basketball against Wale this week, but Roz is still hanging in there. The NBA All-Star Draft took place on Thursday night and Steph and LeBron made their picks for what should be an awfully exciting game.
The 2018 Baseball Hall of Fame inductees were made official on Wednesday as Vlad Guerrero, Trevor Hoffman, Jim Thome, and Chipper Jones were selected from the ballot. Chipper became only the second No. 1 pick of all time to make the Hall, the first being Ken Griffey Jr.
Tiger! Tiger! Tiger is back. The world of golf is just such a better place when the legend himself is on the course. Will this be the start of a real return for the champ? Only time will tell.
The Super Bowl is set, and the Patriots find themselves in a rematch with the Eagles from over a decade ago. Will Nick Foles complete what would be the greatest storyline of the season? Or will Touchdown Tom further cement his legacy as the G.O.A.T. We will see in one short week. Stay tuned for predictions and a breakdown of the big game!