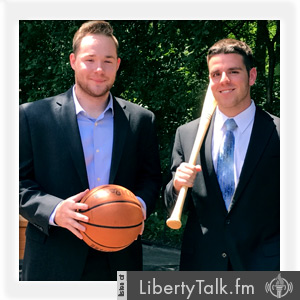 BY: Witz & Roz, Hosts, The Sporting Edge
PUBLISHED: February 10, 2018
Foles Delivers
T
he Philadelphia Eagles are your 2018 Super Bowl Champions! What an absolutely crazy game SB 52 was. Nick Foles once again delivered a magnificent performance and will be forever enshrined in Eagles history. From backup to Super Bowl champ, what a story!
Tom Brady threw for over 500 yards, but that just wasn't enough as the Pats D could literally not stop a nose bleed. Was the benching of Malcolm Butler to blame? We'll never know, but the rumors continue to circulate.
It looked like Josh McDaniels was on his way out of town to be the head coach of the Indianapolis Colts, but has since left them at the altar and will return as the offensive coordinator for the Pats. The only good reason Witz and Roz could think of is that McDaniels is next in line to replace Bill Belichick.
LeBron basically traded half of the Cavs roster this past week in what turned out to be a crazy NBA trade deadline. Isaiah Thomas went from playoff hero with the Celtics, to no man's land with the Lakers. It looks like LA is making room for a couple huge names this summer. Stay tuned for more updates next week!