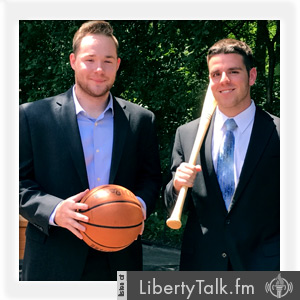 BY: Witz & Roz, Hosts, The Sporting Edge
PUBLISHED: August 18, 2018
Deandre Hopkins & Stefan Diggs
T
his week on The Sporting Edge, Witz and Roz dissect one of the toughest batches of WR's in recent memory. There are so many options at the top, but who will emerge as best fantasy plays of 2018? A lot will have to do with staying on the field as well as QB play.
There is a ton of talent in the Top 10, and Deandre Hopkins is a name that is at the top of both draft boards for Witz and Roz. If Deshaun Watson can stay healthy, there is no doubt Nuk could end up as the top receiver.
Stefan Diggs is another interesting play as he comes into 2018 from a breakout season last year. Plenty of experts think the addition of Kirk Cousins should make Diggs even more explosive this year.
We're down to the final quarter of the MLB season and the Oakland A's are still HOT. They might even have a chance to catch the defending champion Astros. Cole Hamels has been a great addition to the Cubs so far as they find themselves in a very tight race with the Brewers in the Central. Stay tuned for more updates next week!