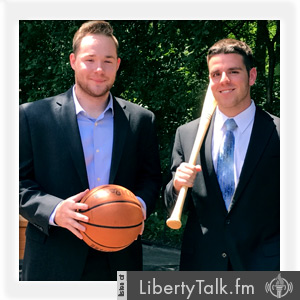 BY: Witz & Roz, Hosts, The Sporting Edge
PUBLISHED: April 28, 2018
Breaking Down the First Round Draft Picks
T
his week on The Sporting Edge, Witz and Roz split the show into two again. Witz breaks down all the baseball news that's happening in the major leagues right now. The Red Sox continue to stay hot, and the Yankees also start to find their stride.
The Dodgers continue to struggle without Justin Turner, but it looks like he could be coming back soon. The Phillies are making Gabe Kapler look like a potential Manager of the Year candidate, and Ronald Acuna makes his long-awaited debut with the Braves. He did not disappoint!
The Cleveland Brown shocked the world by taking Baker Mayfield at No. 1 overall. Roz breaks down the entire first round of the draft. Five quarterbacks were taken! Saquon looks to be the new face of the Giants franchise.
Josh Rosen was heated after being taken No. 10 overall by the Cardinals, citing that there were 9 mistakes in front of him. Which QB will end up being the best of the bunch? Only time will tell. Stay tuned for more updates next week!