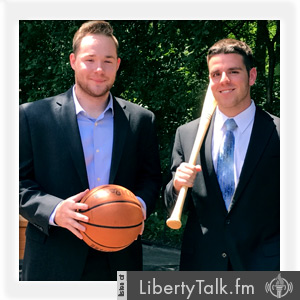 BY: Witz & Roz, Hosts, The Sporting Edge
PUBLISHED: June 30, 2018
Where will all the big names go?
This week on The Sporting Edge, Witz and Roz are back in action and find themselves in basketball's most exciting season; the offseason. Where will all the big names go? The Lakers look poised to add at least one superstar if not two.
Has LeBron really been texting KD? Witz and Roz discuss what the league would look like if the Warriors added LeBron. They also talk about the situation with Wendell Carter Jr. and his mother's thoughts about Coach.
Oregon State won another NCAA Baseball Championship, and it wouldn't have happened unless Arkansas dropped a foul popup in a possible series-clinching game 2.
The Indians have taken a stranglehold on the AL Central and now own the biggest lead in all of baseball. Some big names are headed to the DL like Kris Bryant and Carlos Correa, while Clayton Kershaw has looked pretty good after coming off the DL. Stay tuned for more updates next week!