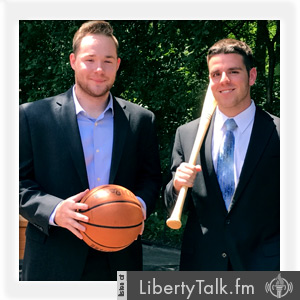 BY: Witz & Roz, Hosts, The Sporting Edge
PUBLISHED: August 04, 2018
Fantasy Focus
T
his week on The Sporting Edge, Witz and Roz jump right back into their favorite sport as it's football time in America once again. The Bears and Ravens kicked off the Hall of Fame game on Thursday night and we got out first taste of Lamar Jackson, along with the familiar face of RGIII.
The fantasy focus this week is on QBs. The top of the list looks pretty familiar with guys like Rodgers, Brady, Wilson, and Drew Brees. There's a lot of talent out there this year, but health should play a major factor with some other big names like Cam Newton and Deshaun Watson.
Witz and Roz discuss the current landscape at Ohio State as there looks to be some trouble ahead for Urban Meyer. Most of the details look pretty bad for Meyer and this could lead to an opening for one of the most coveted jobs in college football.
The trade deadline is over and there was no shortage of action. The Dodgers and Brewers both bolstered their infield's by adding Machado, Dozier, Moustakas, and Schoop, respectively. The Cubs added Cole Hamels and the Pirates made a surprising move to add Chris Archer. Stay tuned for more updates next week!