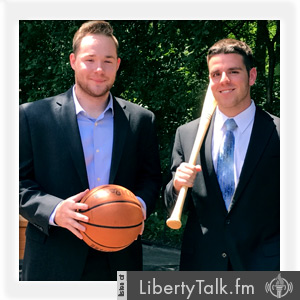 BY: Witz & Roz, Hosts, The Sporting Edge
PUBLISHED: January 13, 2018
Tua Tagovailoa is the Real Deal
T
his week on The Sporting Edge, Roz is fully immersed in the west coast world as he brings the show out to Hollywood. His commitment is so real he even does the show from his car on the while checking out some apartments. Hopefully someone is nice enough to let him live on their couch! Roll Tua Tua Tua! Tua Tagovailoa is a name Alabama fans will likely be chanting for a long time to come. The freshman backup quarterback led the Alabama Crimson Tide to a national championship in spectacular comeback fashion.
NFL Playoffs Heat Up in Divisional Round
This week sees the kickoff to the divisional round of the NFL playoffs, with action in the NFC starting off with the Atlanta Falcons who are looking poised to advance to the conference championship game again and sorely wanting to avenge the second-half implosion that saw their championship desires dashed in a loss New England Patriots last year in Super Bowl 51.Will Nick Foles, the starting QB for the Philadelphia Eagles have enough firepower to stop them and give fans in Philly something to cheer; Roz and Witz don't think so.
On the AFC side of the playoff bracket, the last time the Jacksonville Jaguars faced the Steelers, Big Ben was picked off on five occasions. Is it possible that we see a repeat, Witz and Roz think probably not; but this Jags defense is for real and their pass rush will try to pressure Roethlisburger into making mistakes. Also be sure to look out for the match-up between the Steelers star wide receiver Antonio Brown and Jacksonville cornerback Jalen Ramsey. Be sure to stay tuned and follow The Sporting Edge on Facebook for more updates throughout the week!