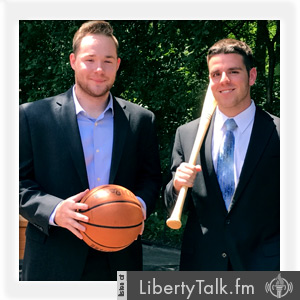 BY: Witz & Roz, Hosts, The Sporting Edge
PUBLISHED: November 24, 2018
Bears, Cowboys & Saints Win
W
itz is finally joined in studio by Roz, who made his trip back to Chicago for Thanksgiving. Duke finally lost a game to Gonzaga, who looks they could be the nation's new #1 team in college basketball.
Rivalry week is really the beginning of the end in college football as we've got conference titles and playoff football coming up next. Which games are going to play a pivotal role in deciding the conference/playoff outcomes this year?
The biggest game on the slate this week is Michigan vs. Ohio State. Coach Harbaugh can silence all the doubters by finally win a huge ranked matchup. If Michigan wins, it looks like they're in the playoffs for sure. 
Drew Brees continues to look like the MVP of the league as his team won 45-7 last week and 31-17 on Thanksgiving Day. The Chiefs and Rams played one of the wildest games in NFL history on Monday in what could've been a Super Bowl Preview. Stay tuned for more updates next week!