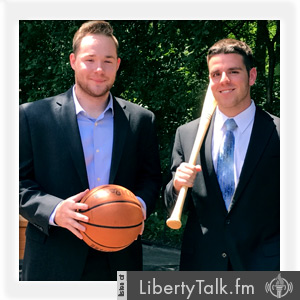 BY: Witz & Roz, Hosts, The Sporting Edge
PUBLISHED: June 16, 2018
Capitals & Warriors
T
his week on The Sporting Edge, Witz and Roz start off the show by talking about hockey for the longest amount of time in the history of the podcast. The Washington Capitals finally ended their drought and Alexander Ovechkin cemented his legacy as one of the greatest hockey players of all-time with his first Stanley Cup.
The Warriors made their case for a dynasty in the making as they won their third title in four years. Kevin Durant was once again the Finals MVP. Now, the most exciting season in the NBA starts, the offseason. The biggest question looming over the league right now is where LeBron James will land this upcoming season.
The U.S. Open is finally here. After a tough first couple days, Dustin Johnson is on top right now and playing some fantastic golf. A lot of the big names folded early as Shinecock Hills was not kind to players like Tiger Woods and Rory McIlroy. The weekend should bring some very exciting action.
The MLB is chugging along and the top three teams in the league remain the Red Sox, Astros, and Yankees. The injury bug is biting quite a few teams right now, but one team that hasn't been affected by losing their star player is the Seattle Mariners. They are playing some great baseball and giving the Astros a run for their money in the AL West. Stay tuned for more updates next week!