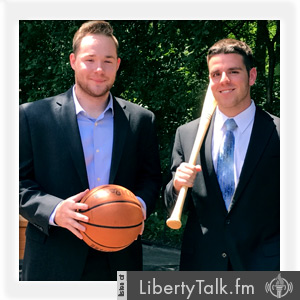 BY: Witz & Roz, Hosts, The Sporting Edge
PUBLISHED: June 02, 2018
Warriors vs Cavs
T
his week on The Sporting Edge, Witz and Roz get heated about the NBA Playoffs. The Rockets broke Witz' heart in Game 7 as they went 4-34 from three-point range and missed 27 consecutive threes at one point. Was Chris Paul the difference? We may never know.
LeBron's back needs to hold out just a little while longer because the Cavs have one more series left to win after beating the Celtics in 7. Jayson Tatum looks like an up and coming star, but he wasn't enough for the Celtics to advance.
It's round four of the heavyweight title bout between the Warriors and Cavs. Pretty unbelievable when you think about the same teams matching up four years in a row. It's never happened!
The MLB is cranking, and the all-star ballot talks are officially open. Mike Trout is the clear-cut best player in the game still and is on pace to have the best season ever. Stay tuned for more updates next week!