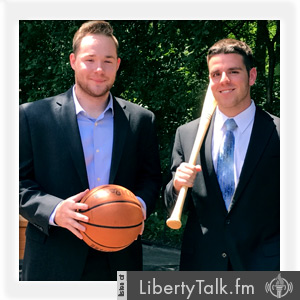 BY: Witz & Roz, Hosts, The Sporting Edge
PUBLISHED: April 14, 2018
NBA Playoffs
T
his week on The Sporting Edge, Witz and Roz breakdown the Masters and what almost was for a show favorite, Rickie Fowler. Rickie went 65-67 over the weekend, but it wasn't enough as Patrick Reed took home the title and his first major ever.
The NBA Playoffs are here, and Roz breaks down all the matchups and what he's looking for. The East seems like it's LeBron's conference to dominate again without the Celtics being healthy and no major contenders.
The West should definitely be more exciting and Witz is sticking to his prediction that this will finally be the year for James Harden and the Rockets. Roz is willing to put another mortgage on the Warriors.
Witz gives his thoughts on the MLB. Shohei Ohtani has been the star of the show so far and is drawing comparisons to the Great Bambino for his ability to both pitch and hit. The Astros remain the team to beat. Stay tuned for more updates next week!