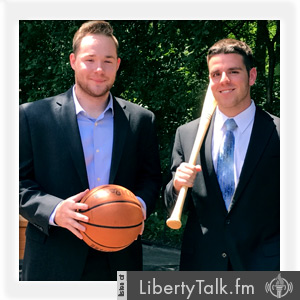 BY: Witz & Roz, Hosts, The Sporting Edge
PUBLISHED: July 14, 2018
Can I Get a Witness?
Witz and Roz are back for another week, and Roz is once again on the road to stardom as he takes his talents to San Francisco for the weekend to visit a good friend of The Sporting Edge.
Witz has his moment(s) of glory as he fights off the vicious attacks from Roz and Rub about his Karl Anthony Towns argument from last week. He is out of breath by the end of the second segment.
Roz goes on a rant of his own and explains how the Warriors dynasty is something that everybody should stop complaining about. It's happened before and will happen again when you have a league as bad as the NBA.
The MLB All-Star break is right around the corner and Roz comments on the Home Run Derby and how his favorite player has a chance to win the crown. Witz notes the biggest All-Star snub, Blake Snell of the Tampa Bay Rays. Stay tuned for more updates next week!