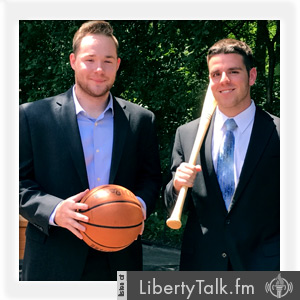 BY: Witz & Roz, Hosts, The Sporting Edge
PUBLISHED: February 24, 2018
Michigan State Might Be the Best Team in the Country
T
his week on The Sporting Edge, Witz and Roz are reunited in what was once their glorious studio. They've been relegated to a nightstand and two laptops. But the dead month in sports is almost over! March Madness is around the corner as well as the start of the MLB regular season.
Roz takes a look at what has changed in the Top 25 in college basketball. Virginia still sits at #1, but Roz thinks Michigan State might be the best team in the country. How will Duke perform down the stretch with Marvin Bagley sidelined? And will Michael Porter Jr. come back at exactly the right time for Missouri?
The Rockets are the best team according to the newest CBS Sports power rankings, and Witz thinks James Harden would be the MVP if the vote was cast today. Kawhi Leonard looks like he'll be shut down for the season.
J.D. Martinez finally signed with the Red Sox and this means the AL East will be even more loaded with power this year. Corey Dickerson gets shipped to Pittsburgh and Eric Hosmer signed a huge deal with the Padres. The times they are a changin'… stay tuned for more updates next week.