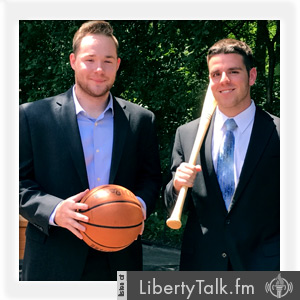 BY: Witz & Roz, Hosts, The Sporting Edge
PUBLISHED: February 02, 2018
Tom Brady is GOAT
W
itz and Roz have the cross-country studio all hooked up as Roz has finally moved into his LA crib. Mark Appel, former no.1 overall pick back in 2013 for the Houston Astros, has decided to retire from baseball, becoming the 3rd ever no.1 pick to never play a single major league inning.
Daniel Snyder is back at it yet again as he trades for Alex Smith of the Kansas City Chiefs. We all know what this means; Kirk Cousins is going to make out like a bandit! Will it be Denver? Will it be Miami? We'll find out soon.
Blake Griffin just got traded to the Pistons in a pretty peculiar move. The Clippers are dismantling their team faster than anyone in the NBA, the only big piece left to go is Deandre Jordan. With Reggie Jackson and Andre Drummond, Griffin joins the Pistons in what looks like a poorer man's version of the Big 3 he had in LA.
"Super Sick Monday" is around the corner because approximately 15 million people are calling in sick the day after the big game. IT'S SUPER BOWL 52! Pats vs. Eagles. Witz and Roz both have the Pats -4.5. Who you do have?