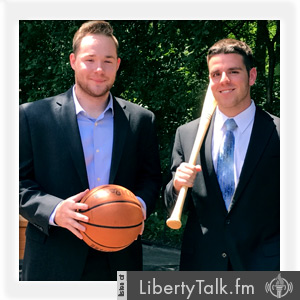 BY: Witz & Roz, Hosts, The Sporting Edge
PUBLISHED: March 24, 2018
March Madness Elite 8
T
his week on The Sporting Edge, Witz and Roz dive right into March Madness and what a crazy tourney it has been so far. Between No. 1 overall Virginia losing to UMBC and Xavier also not making it out of the first weekend, this tournament has been awesome.
The Loyola Ramblers from Chicago continue to march on as they were able to outlast Nevada. They find themselves in the Elite 8. Michigan also looks poised to make a Final Four run.
Fantasy Baseball is right around the corner. Witz and Roz break down some of their favorite pitchers and hitters and take a look at the middle rounds to find some undervalued players.
Roz praises LeBron for about half the segment but won't commit to a championship for the Cavs as he still thinks the Warriors have it in the bag. Witz feels the Rockets could surprise some people. Stay tuned for more updates next week!