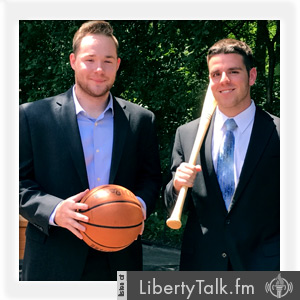 BY: Witz & Roz, Hosts, The Sporting Edge
PUBLISHED: March 17, 2018
The Greatest Sporting Event of the Year
T
his week on The Sporting Edge, Witz is finally back from vacation and just in time for the start of the NCAA tournament! We're 2 days into the greatest sporting event of the year and those of you who had Arizona winning it all better start getting ready for next year. The Wildcats went down to No.13 seed Buffalo in what should be the final game in Sean Miller.
Loyola gave us the first buzzer beater of the tourney as they hit a 3 pointer to take down Miami, behind the support of 98-year-old Sister Jean Schmidt. Rob Gray of Houston topped off his 39-point effort with a game-winning layup against San Diego State.
NFL Free Agency has been wild the past few days and it's a great time to be a wide receiver. Marqise Lee got a great deal from the Jags, while Jordy is on his way to Oakland, and Paul Richardson made out like a bandit in Washington.
Captain Kirk will lead his ship to Minnesota on a fully guaranteed 3-year deal. Case Keenum lands in Denver in a surprising move. Sam Bradford joins the Cardinals, Teddy joins the Jets, and Tyrod Taylor looks to be the new starting QB for the Cleveland Browns. Stay tuned for more updates next week!